The Regional Cooperation Council (RCC) is an all-inclusive, regionally owned and led cooperation framework. This framework engages RCC participants from the South East Europe (SEE), members of the international community and donors on subjects that are important and of interest to the SEE, with a view to promoting and advancing the European and Euro-Atlantic integration of the region.
In time, RCC agenda has shifted to a more focused and result-oriented interventions in a restricted number of areas. Over the next three years, RCC will continue to work to reduce – and where possible remove – the obstacles to increased mobility, enhanced connectivity and improved competitiveness in SEE, while also contributing to better governance, improved functioning of the rule of law and enhanced security in the region.
The RCC has 46 participants. The organisation, headed by the Secretary General, Majlinda Bregu, is financed by the European Union and its SEE and other Board participants. It has a Secretariat based in Sarajevo and a Liaison Office in Brussels.
COMMON REGIONAL MARKET
The leaders of the Western Balkans Six, Albania, Bosnia and Herzegovina, Kosovo*, Montenegro, North Macedonia and Serbia, endorsed the Common Regional Market (CRM) 2021-2024 Action Plan at the Berlin Process Summit held on 10 November 2020 in Sofia.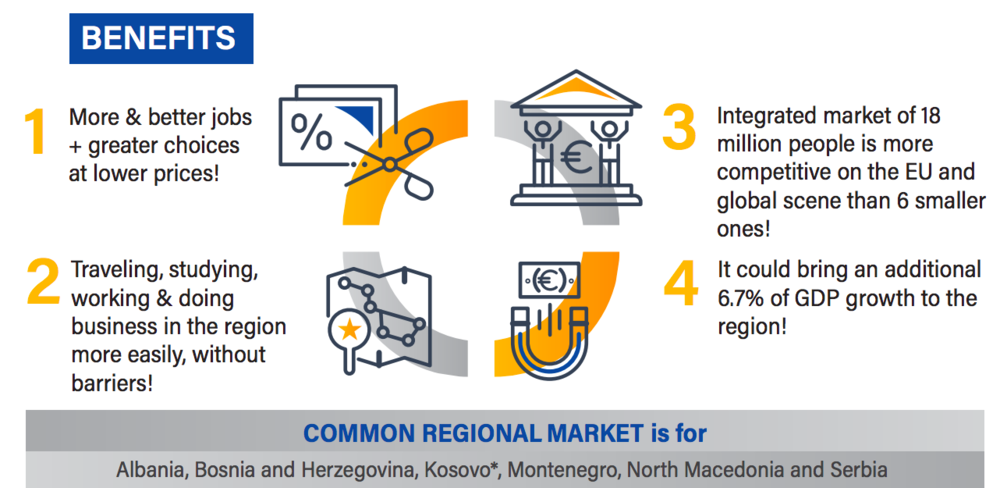 The Action Plan is made up of targeted actions in four key areas:
Regional trade area: free movement of goods, services, capital and people, including crosscutting measures, such as the Green Lanes, to align with EU-compliant rules and standards and provide opportunities for companies and citizens;
Regional investment area, to align investment policies with the EU standards and best international practices and promote the region to foreign investors;
Regional digital area, to integrate the Western Balkans into the pan-European digital market; and
Regional industrial and innovation area, to transform the industrial sectors, shape value chains they belong to, and prepare them for the realities of today and challenges of tomorrow.
Common Regional Market Action Plan
Declaration on Common Regional Market